56 Movie Mistakes: The Longest Day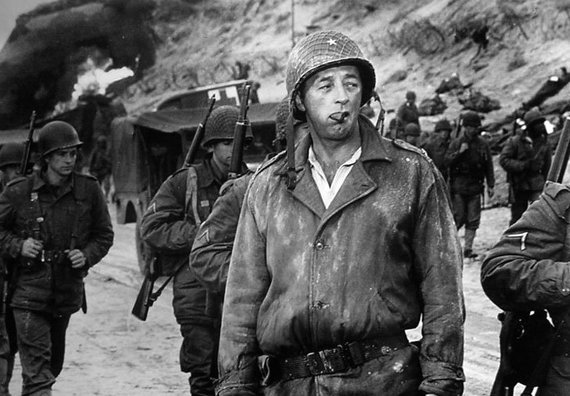 Then there is this attempt to denigrate the movie The Longest Day recounting the Overlord operation to liberate Europe.
The Longest Day, which was made in black and white, features a large ensemble cast including John Wayne, Kenneth More,Richard Todd, Robert Mitchum, Richard Burton, Sean Connery, Henry Fonda, Red Buttons, Peter Lawford, Eddie Albert, Jeffrey Hunter, Stuart Whitman, Tom Tryon, Rod Steiger, Leo Genn, Gert Fröbe, Irina Demick, Bourvil, Curt Jürgens, Robert Wagner, Paul Anka and Arletty.

Many of these actors played roles that were virtually cameo appearances and several cast members such as Fonda, Genn, More, Steiger and Todd saw action as servicemen during the war, with Todd being among the first British officers to land in Normandy in Operation Overlord and participated in the assault on Pegasus Bridge. So just for some fun here are some of the movie mistakes – we expect you spotted most of them anyway 🙂

When the ships are about to begin bombarding the beaches you see a group of planes fly by the camera these are Douglas Sky Raiders which did not see service until the late 1940s.

The currency notes in Schultz's winnings are of a later issue than was in circulation in 1944.

Features LCM-8s, which weren't built until 1954.

German General Max Pemsel says: "Wir haben starke RADAR-störungen" (We have strong radar interference). The word "radar" was not used, perhaps even not known in Germany in 1944. They used a somewhat similar system, but called it "Funkmeßgeräte" (radio measuring equipment).

General Gavin is wearing a Senior Parachutist badge in 1944.The Parachutist Badge was formally approved on 10 March 1941. The senior and master parachutists badges were authorized by Headquarters, Department of the Army in 1949 and were announced by Change 4, Army Regulation 600-70, dated 24 January 1950.

During the go/no go sequence, a jet can be heard flying overhead as the naval representative is speaking.

During a very early scene in France, the back end of a Citroen 2CV can be seen parked at the side of the street as the German soldiers march down it.
via 56 Movie Mistakes: The Longest Day
And so on for three pages. Yes, it's interesting and very likely true. But you know, it doesn't matter a damn. Like the John Ford Trilogy, the story is the thing, and these warriors of America, Canada, Great Britain, France, Poland, and still others did something so heroic here, that all of these relatively picayune mistakes, while regrettable, just don't matter. This is not a technical documentary, this is a commemoration of one of the greatest days in history, one of the first to try to be fair to all the participants.
I couldn't find the whole movie on YouTube for you, but if you run the playlist in autoplay, it'll be kind of like watching it on TV, which is where I fist saw it, long ago and far away. 🙂